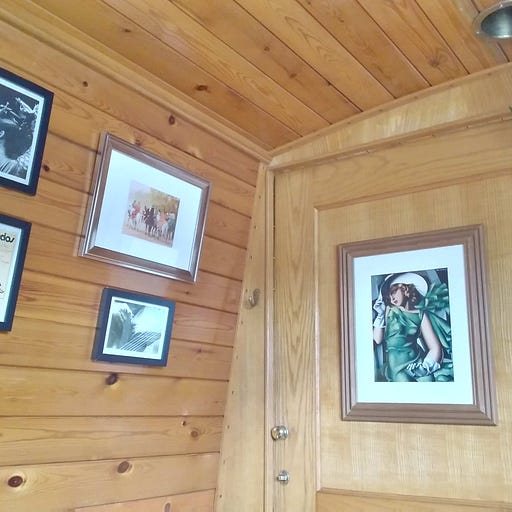 Feb 21 • 4M
A Tale of Hope
The power of art, waving, and words.
Here I share recordings of my weekly writings for those who like to give their eyes a rest from the screen. They might be personal reflections, short stories, poetry, published articles. I look forward to connection and conversation.
If you would like to share your own tale of hope, please do so in the comments below.💛
Right now we are renovating our narrowboat. In the process of ripping out the bathroom we discovered the old shower had been leaking for years, thus leaving us with a rotten floor over half of the boat. I can't say we relished this discovery—given the amount of stress we have already experienced this past year—but when life throws these things at us really, we have no choice but to push on.
Last night, despite everything, we put some pictures up. Creations by friends, images that remind us of travels through Japan, Spain, Portugal, France. And a favourite painting by Tamara de Lempicka—bought twenty-five years ago when I truly felt I had discovered (and begun to understand) womanhood—now hangs on the big wooden door that separates my bedroom from the bathroom (if you can currently call it that). When I woke this morning, light pouring across this print, I felt hope.
To me, hope is a glimmer of beauty in a moment when all beyond feels like a black hole. And believe you me, the room beyond that door really is a black hole right now! That painting, hanging there, made me reflect on the many ways we can all bring hope into our lives when everything feels dark.
In my hometown there are a lot of bridges over dual carriageways and mostly when we cross them, we play "Sweet or Sour." We, all three of us, stand with big grins, waving frantically at the cars that pass underneath, waiting to see who waves and who doesn't. If we get a flash of lights we cheer and if we get a beep, we whoop with joy! And that joy becomes infectious as people in their cars, sometimes reluctant, then embrace the moment to wave back with vigour.
Even on mornings when getting out of bed has felt like a struggle, this little pastime as we walk our dogs, brings hope into our lives. It also—I hope—brings hope into others' lives because, let's face it, we can never know whether that seemingly incidental wave, kind comment, thoughtful card, might have made a huge impact.
I recently returned to my job as a writing coach for home-educating families after five months off. I was nervous and daunted, wondering if I was back on form. Several weeks in and a parent sent an email thanking me for my attention, telling me I was a great teacher. It landed in my inbox right at a moment when I had been paralysed with fear that I wouldn't be able to get over this point in class—the point I had had to relinquish a class when my mum died last year. I cried with thankfulness for that email. It reiterated to me that we can never know when our words are most needed.
Words are powerful and should be spoken from the heart.
No barriers.
Each piece of art in my boat holds a joyful memory, or has a warm feeling attached to it. Each wave is given with a need to bring hope; for both me and others. And with each word we write or say, we wield the power to connect when it is most needed.
So between art, waving and writing, it's as if hope is lacing itself through not just my home, but my very being, reminding me that there is always light in the darkness.
For me—in a less meaningful way—there is hope of a shower one day…
Alice Griffin is a reader-supported publication. To receive new posts and support my work, consider becoming a free or paid subscriber.